Fighters of the Iron Cross, Men and Machines of the Jagdwaffe
Work continues on Jerry Crandall's book Fighters of the Iron Cross. Many years ago, we had the signature page signed by 13 Luftwaffe fighter pilots, so that is complete and ready for the book. We traveled over the U.S., Canada and throughout Germany in order to secure these rare signatures. Most all of these men have passed, so we are fortunate to have completed the signature page when we did.
The deluxe, leather bound, limited edition of 350 copies signatorie page has been signed by Oscar Boesch, Karl H. Pütt, Horst Petchler, Gerhard Thyben, Hans-Ekkehard Bob, Gerhard Hanf, Elias Kuhlein, Willi Moritz, Herbert Schlüter, Willi Ungar, Siegfried Muller, Gerhard Kroll and Rolf Hermichen.
Here are some photos of some of the men signing the pages: Hans-Ekkehard Bob, Rolf Hermichen, Karl Pütt, Wilhelm Moritz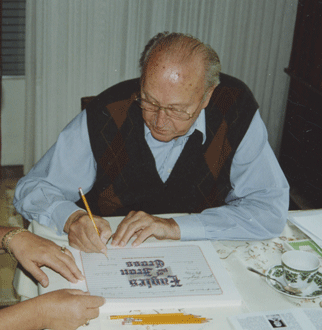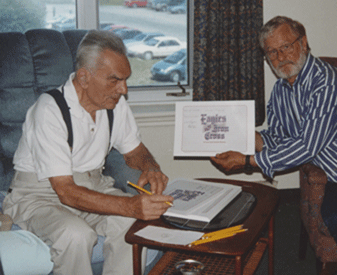 Presented in the book will be short biographies and combat stories in their own words about their fighter experiences in the Luftwaffe, all based on personal interviews conducted by Jerry and Judy over the past 45 years. Many more pilots will be incuded above and beyond those who signd the signatorie pages. We will also publish numerous photos many from their private collections, many never before published. Documents and full color profiles of their aircraft complete the book.
We anticipate this title will compliment the two Dora volumes by Jerry Crandall, in A4 format, full color and, while still under development, it will rpobably be at least 300 pages. We will announce more details as we progress.
The price has not yet be set.