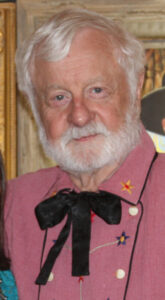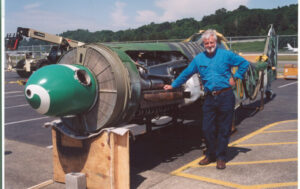 Here is the obituary I prepared for the Daly Leach Chapel funeral home here in Hamilton. Jerry wanted to be cremated with no funeral. I hope to prepare a Celebration of Life YouTube video this summer.
Obituary Jerry C. Crandall 04/01/1935 – 06/12/2022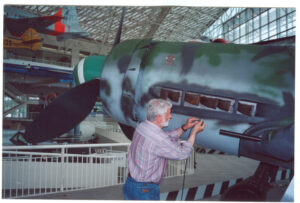 Heaven gained another angel early this morning. At 2:50 on June 12, 2022 my beloved husband and best friend for over 50 years passed into the arms of our Lord after suffering 5 days from Covid. On Saturday he insisted he be discharged from the ICU and allowed to go home. Hospice intervened and granted our wish. He came home at 4:30, sat in his favorite chair with me (his wife Judy) and his oldest son Rick, our dog Bridger James and cat Billy the Kiddy by his side. We kept him comfortable until he passed early on the morning of June 12th.
Jerry Crandall's special love of history, fascination for artifacts and an honest dedication to research, bring reality into each of his paintings. His creations sparkle with bright, clear realism, are painstakingly rendered, possess underlying technical accuracy and strive for historical authenticity.
His art celebrates the uncommon union between historical authenticity and fine art. Working as an artist for over 60 years, he enjoys painting in a more traditional realistic style. Since 1977 his work has been in limited edition print form and recently has added the Giclée canvas editions to his work.
Jerry was born in La Junta, Colorado, near Bent's Fort on the Santa Fe Trail. Because of his expertise on the American West, he served as Historical Consultant for early segments of the television series "Centennial" and for the Charlton Heston Movie, "The Mountain Men".  He appeared in the movie "Tombstone" as one of the Cowboys, and has been a guest on several radio and television shows across the country.
Listed in Who's Who in American Art, Who's Who in the West, Who's Who in America among others, he is also listed in Contemporary Western Artists. His pieces can be found in many private as well as public collections. Numerous organizations claim his membership including the American Mountain Men. He holds associate memberships in several additional groups as well.
Aviation history has also been at the forefront of his interest. He has written 20 books on the WWII Luftwaffe and is recognized as one of the top 5 Luftwaffe (German Aviation) historians in the world. Traveling the world over for over 40 years, Jerry and I have gathered first person interviews with hundreds of pilots which culminated in his most recent, and last book, Fighters of the Iron Cross.
As an aviation artist he would create paintings of specific air battles, produce limited edition prints and have the pilot or pilots featured in the scene sign each print. The prints are highly collectible and widely respected worldwide.
Aviation museums, around the world have sought his expertise and input numerous time on the colors and markings of WWII aircraft.
I will deeply miss my beloved husband, my confidant, my business partner, travel companion and lover. R.I.P. my precious Jerry; I will always love you and miss you forever, till we meet again, run with Apache your wonder horse and our other fur babies.
You are in the arms of our Lord and Savior, Jesus Christ. I love you very, very much and will attempt to carry on the best I can here on earth. Jerry did not want a funeral; he will be cremated. I will prepare a youtube Celebration of Life later this year so that all his friends around the world can share in his special, gifted, loving life.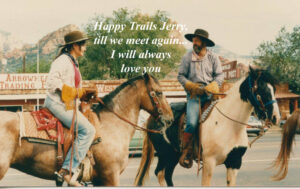 Here is the official Daly Leach chapel Funeral Home obituary page: https://www.dalyleachchapel.com/obituary/Jerry-Crandall